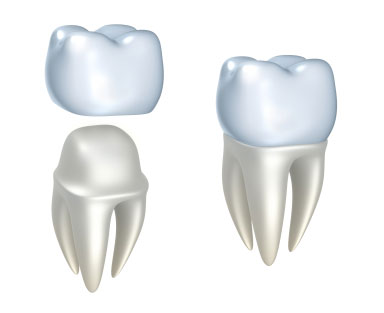 If you're looking for dentists who do crowns in Columbus, look no further. Murray Hill Dental and our dedicated team specialize in custom dental crowns and dental bridges to give you that perfect smile.
What Are Dental Crowns?
Custom-designed dental crowns are used to restore a tooth to its original appearance and function. They provide a restorative solution to severely damaged or decayed teeth, dental implants, and root canals. Dental crowns may also be used to provide a permanent foundation for holding bridges and dentures in place.
Dental crowns are permanently placed over the entire damaged tooth's structure, which replicates the original tooth's shape, strength, and aesthetics. In addition, crowns can be placed on top of implants to provide functional shape and structure. With proper care, you can expect your dental crown to last a lifetime.
Dental Crown Application and Technology
Here's what you can expect during the crown-making process:
We reduce the size of damaged tooth/teeth to allow room for the crown to fit
We take an impression of the tooth/teeth to create a mold for the crown
Using our state-of-the-art CEREC machines, we'll create Zirconia Crowns for you during your appointment!
Once ready, we permanently affix your brand-new, custom dental crowns, and you'll be on your way with a bright smile again!
If you're searching for the best dentist for crowns in Columbus, you've found it in Murray Hill. Contact us today to get started.
What Are Dental Bridges?
Custom-designed dental bridges are similar to dental crowns, except that dental bridges are used to fill gaps in one or more missing teeth. They provide a permanent solution for those who wish to restore their smile to its original luster.
When a person has missing teeth, the remaining teeth could shift to make up for the gaps. In addition to being a restorative solution, dental bridges help prevent this shift, or dental occlusion from happening.
Dental Bridge Application and Technology
Here's what you can expect during the bridge-making process:
We match the bridge appliance to the color of your existing teeth
Dental bridges function similarly to 3 or 4 crowns affixed side by side
We permanently affix the bridge to adjacent tooth structures
Your custom dental bridges will give you a more natural feel and function, so you can get back to your usual routine of eating and cleaning your teeth.
Murray Hill Dental Locations for Dental Crowns and Dental Bridges in Columbus, Ohio
Murray Hill Dental is proud to serve the following locations and surrounding areas:
---
Ready to Schedule an Appointment?
Appointments are available to fit your schedule. We welcome new patients!
---
Murray Hill Dental Locations