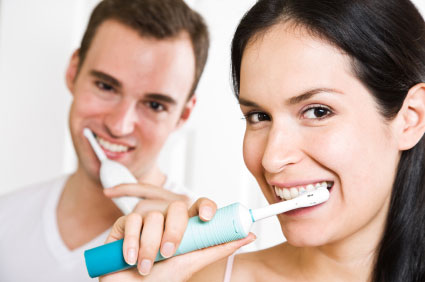 Professional teeth cleanings and exams create winning smiles and great oral health for a lifetime. As one of the best measures for preventing and detecting tooth decay and other dental problems, cleanings and exams are performed by a certified dental hygienist. Regularly scheduling your teeth cleanings is important to stay on top of your dental hygiene.
What to Expect for Your Columbus Teeth Cleaning and Exam
These appointments typically last an hour and include digital X-rays, oral cancer and periodontal disease screenings, and a thorough evaluation of existing restorations and tooth surfaces.
During your teeth cleaning in Columbus, Ohio, a typical visit includes removing plaque, removing tarter, and polishing teeth. The dental cleaning is performed by a registered dental hygienist and is designed to clean the teeth so the examination can diagnosis any issues.
When it comes dental exams, the process varies based on your situation. Most of the time, dental exams include X-rays, examining existing restorations, oral cancer screenings, tooth decay exams, and screenings for gum disease. After your appointment, Dr. Brown will meet with you and create a personalized dental plan.
Choose Murray Hill if you have been searching for "teeth cleaning near me." Columbus, Ohio patients select us because we are dedicated to quality and your oral health.
Murray Hill Dental Is Your Source for Teeth Cleaning in Columbus
If you're looking for a reliable dentist in Columbus, Ohio, our dental office is a great option for you. All of our locations are equipped with the newest technology to ensure our patients receive expert dental care. Plus, we pride ourselves on building relationships with our patients based on trust and confidence in our services to meet their needs and goals.
Check out what some of our Murray Hill Dental patients say about our services and their experiences with us. If you are looking for more, go behind the scenes and meet our team of dentists.
The Dental Services We Offer
Our dental services aren't limited to teeth cleanings in Columbus, as we have many other services to ensure you receive the oral care that you deserve. The other services we have to offer include:
We also offer various technology services, including digital X-rays, air abrasion, and much more. Our team at Murray Hill Dental offers the best solutions you are looking for!
As a top-quality dentist in Columbus, Ohio, we have different locations for you to choose from. We are located in West Columbus, Westerville, and New Albany!
---
Ready to Schedule an Appointment? Contact Us Today for Teeth Cleaning in Columbus!
Are you ready to achieve the best dental health? Murray Hill Dental is here to meet your goals. Our teeth cleaning in Columbus, Ohio beats any other dental clinic in the area.
Appointments are available to fit your schedule. We welcome new patients! Contact us with any questions about our services. We look forward to hearing from you.