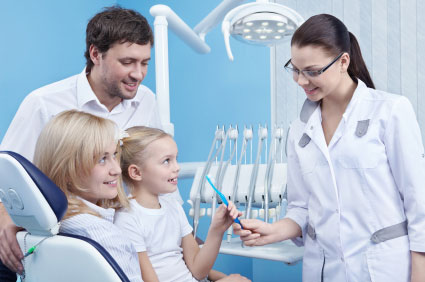 Murray Hill Dental offers a wide range of pediatric dental services for children and teenagers in Westerville and west Columbus. It is important for a child to feel positive about oral health since a healthy smile contributes to good overall health and self-esteem.
At Murray Hill Dental, we're dedicated to making your child feel at ease and comfortable during their visits. We know that the better experience a child has at the dentist in their formative years the more likely they will maintain good dental health throughout their lives.
Our Approach as a Columbus-Area Children's Dentist
The first visit you make to our Westerville or west Columbus office will be a memorable one, as we treat your child like they are the most important person in the office… because they are!
As children progress through the different stages of life, their teeth will also go through many stages. It is very important to schedule regular pediatric dental checkups in order to anticipate each change and ensure continued development.
Dr. Brown is focused on encouraging the habit of lifelong dental health, especially starting from a young age. With this in mind, our children's dental office focuses on four key traits to ensure that we deliver the quality dental care for kids you and your family expect.
These traits are:
Having an atmosphere tailored to children – There are many factors involved when making a dental space appealing to children – keeping an uncluttered space, having room for parents, and providing toys are just some key aspects we take into account.
Having a friendly and engaging staff – Our staff is always approachable and welcoming, particularly to children, as we know the anxieties that can arise from trips to the dentist.
Utilizing child-sized instruments and supplies – To minimize pain and discomfort during dental procedures, we make sure to use instruments appropriate for the size of your child's mouth.
Communicating with your child – When going over procedures with your child, our team will avoid industry jargon and anything frightening, explaining our care in simple, clear language that will put them at ease.
You can read more about what makes us a great pediatric dentist for the Columbus area in our blog post, where we address these four traits in greater detail. You can also visit our what to expect page to learn about our general processes for new and existing patients.
Along with these pages, you can also explore our site by visiting some key areas like:
If you have any questions for us, be sure to reach out because our team can help answer any queries you have about children's dentist appointments and more.
Please schedule online using the link below if you are interested in a pediatric dental appointment for your child. We're ready to be your chosen dentist for kids in Columbus and Westerville!
---
Ready to Schedule a Children's Dental Appointment?
Appointments at our children's dental office in Columbus are available to fit your schedule. We welcome new patients!
Murray Hill Dental Locations