Murray Hill Dental is at the forefront of the evolving technology of dental implants, as we now offer both dental implant restoration and placement! Gone are the costly, inconvenient days where you had to visit a specialist to have your dental implants placed.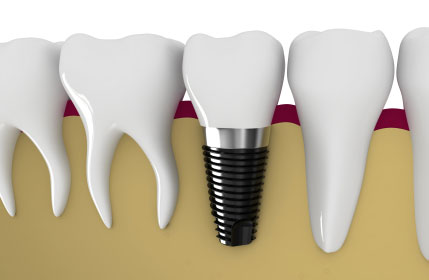 How Do Dental Implants Work?
Dental implants offer a permanent option for replacing missing teeth. They act as replacement tooth roots, providing the foundation necessary to affix replacement teeth. The dental implant process begins with a small metal post inserted into the jawbone, which acts as the strong base for the placement of a permanent or removable crown.
What Are the Benefits of Dental Implants?
Dental implants offer a number of benefits, including:
Better oral health
Less trouble eating
Restored confidence
Enhanced smile and appearance
Lasting results
While implants can last anywhere from 10 to 15 years, it's important to follow a proper dental hygiene regiment to help them last as long as possible.
How Does Dental Implant Restoration Work?
Dental implant restoration reinstates patient confidence by repairing a broken or missing crown from an existing implant. Implant restoration is a two-stage process, beginning with your replacement tooth root being implanted. Once the tooth root replacement is completely healed, you'll visit us again, and we'll fit you for a custom-designed crown that will be placed over the implant.
As with all dental implants and oral conditions, each patient's situation will be determined on a personal basis. In some dental implant restoration cases, we have the opportunity to use our advanced CEREC crown machine, which designs same-day crowns that we can fit and place at one of our offices in Columbus, Ohio!
Choose Murray Hill Dental for Your Dental Implants
Searching for a dependable dentist who does implants can be a stressful, tiring process. At Murray Hill Dental, we make it easy for you and ensure our experienced team of doctors and dental care providers prioritizes your radiant smile and oral health. If dental implants don't quite match your needs, we offer a variety of other services and dental care to patients of all ages.
At Murray Hill Dental, we take pride in our welcoming and relaxed environment, perfect for building relationships with our patients. We are committed to being your reliable, family and cosmetic dentist in Columbus that you can trust.
Murray Hill Dental Locations for Dental Implants and Other Services
Our team at Murray Hill Dental is passionate about providing you with top-tier dental care at any of our three offices:
---
Ready to Schedule an Appointment?
Appointments are available to fit your schedule. We welcome new patients!
---
Murray Hill Dental Locations