These days, most of our Columbus patients strive for brighter, whiter teeth. There are several options available, from over-the-counter methods to professional teeth whitening. Not sure which option is best for you? Phillips Zoom whitening has the advantage of covering the most important elements of professional teeth whitening: it's quick, it's safe, and it works!
What Is Professional Teeth Whitening?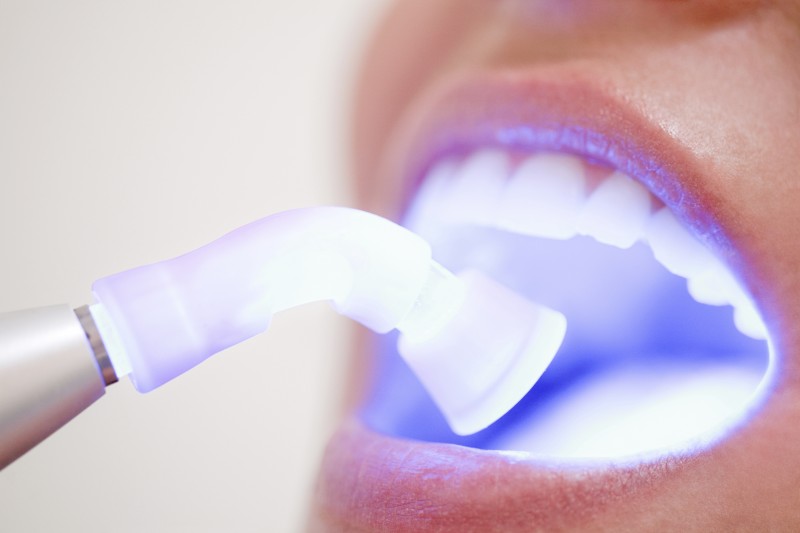 Professional teeth whitening is a non-invasive cosmetic treatment that enhances the color of natural tooth enamel. Are you looking for a Columbus dentist who does teeth whitening? At Murray Hill, we're proud to offer Phillips Zoom whitening at both our west Columbus and Westerville offices—the number 1 patient-requested professional whitening brand.
Clinically proven to whiten teeth up to eight shades in just one procedure, Philips Zoom whitening uses advanced LED light-activated technology in minimal time. It's safe, effective, and fast. This teeth whitening technique offers:
Variable settings – For patients with more sensitive teeth, a lower setting can be chosen to avoid discomfort.
Advanced blue LED technology – This high-efficiency technology reduces downtime and operating costs, making your appointment as quick and inexpensive as possible.
Patient post care and maintenance kit – After the procedure, you'll be given sensitivity and whitening maintenance to take home for your convenience.
Is Professional Teeth Whitening Right for Me?
Teeth whitening is useful for patients who have discolored or stained teeth, and for those who simply wish to brighten their smiles.
Maybe you'd like a brighter smile but don't have much time before an important event? Averaging between 45 minutes to an hour, the visit is quick and easy for those who live a busy, on-the-go lifestyle. For people who don't have time to worry about conducting an ongoing at-home treatment, our teeth whitening method serves as a great alternative.
It is also important to properly determine whether you are a good candidate for this technique—which is something we'll do during your consultation. It helps to have your teeth cleaned several weeks before the whitening procedure occurs, so the appointment can focus solely on making your smile brighter.
Stop dreaming about a whiter smile—make it a reality! Ready to get started with a top-quality teeth whitening dentist? Schedule an appointment today.
Choose Murray Hill as Your Columbus Teeth Whitening Dentist
At Murray Hill Dental, our experienced team is committed to providing top-tier general and cosmetic dental services throughout the Columbus, Ohio area. Your smile and oral health are important to us, which is why you can count on our team to provide expert dental care in a relaxed and welcoming environment.
We strive to respect the unique needs and goals of each of our patients and work to build relationships of trust and confidence. Our dedicated staff will work closely with you to deliver a team-focused approach to providing exceptional and compassionate care.
From teeth whitening to pediatric dentistry to porcelain veneers and more, Murray Hill Dental offers a variety of services and care to patients of all ages.
---
Ready to Schedule an Appointment with Our Teeth Whitening Dentist?
If you're look for the best teeth whitening dentist in Columbus, Ohio, look no further! Murray Hill Dental is the choice for you. Contact us today to learn more about our safe and effective teeth whitening treatments or to schedule your visit. Appointments are available to fit your schedule. We welcome new patients!
---
Ready to Schedule an Appointment?
Appointments are available to fit your schedule. We welcome new patients!
---
Murray Hill Dental Locations