About Invisalign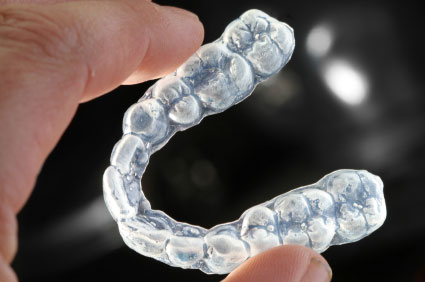 There are many options available for straightening your teeth, but none offers the level of comfort, convenience, and confidence that you'll find with Invisalign®. Invisalign takes a modern approach to straightening teeth, using a custom-made series of aligners created for you and only you.
These aligner trays are made of smooth, comfortable, and virtually invisible plastic that you wear over your teeth. Wearing the aligners will gradually and gently shift your teeth into place. Invisalign works by popping in a new set of aligners approximately every two weeks, until your treatment is complete.
Our Columbus Invisalign dentists can develop an Invisalign treatment plan for you to help correct underlying issues with your teeth and give you a winning smile. Plus, we're able to accommodate the whole family since we supply Invisalign for kids and Invisalign for adults.
The Treatment Process for Invisalign Aligners
You can start the journey to a perfect smile by scheduling an appointment at Murray Hill. After we've established that Invisalign braces are right for you, Dr. Brown will create a customized treatment plan based on X-rays and impressions of your mouth. Using digital images of your teeth, we'll be able to show how your teeth will move at each stage of Invisalign treatment.
Before long, your issues will be corrected by our Invisalign dentists and you'll have the smile you've always wanted.
How Long Does Invisalign Take?
Using the digital images of your teeth, we can project how long your Invisalign treatment will take. For adults, Invisalign treatment typically lasts a year. For teens, the treatment typically lasts the same amount of time as braces, and depends on the original assessment. For best results Invisalign should be worn 20-22 hours per day. The aligners should only be removed for eating, cleaning, and playing sports.
Invisalign for Kids in Columbus, Ohio
If your children have issues with their teeth in need of correction, Invisalign is ideal once they reach their teens. But beyond the process itself, as practiced pediatric dentists we're adept at creating a comforting atmosphere designed to put kids at ease.
Our friendly and engaging staff will communicate the Invisalign process, along with any other dental processes needed, letting your child be informed and worry free.
Our Invisalign Dentist Locations
At Murray Hill Dental, we supply three convenient locations around the Columbus, Ohio area to give our patients options for what works best for them. Patients can choose from:
At each of these locations we also provide a wide array of essential dental services, ranging from cleanings and exams to dental implants to sleep apnea treatments and much more.
---
Ready to Schedule an Appointment?
If you've been looking for dentists who do Invisalign in Columbus, Ohio, Murray Hill Dental can provide. Our experienced Invisalign dentists can assess your needs and get you the treatment plan perfect for you.
Let us help get your smile back by contacting our Westerville or West Columbus offices today and booking an appointment! Appointments are available to fit your schedule. We welcome new patients!